Pat G'Orge Walker discusses Somebody Sinning in My Bed with Ella Curry
http://www.audioacrobat.com/play/WTgtshhQ
Somebody's Sinning In My Bed by Pat G'Orge-Walker
Pat G'Orge-Walker delivers a wickedly funny, uplifting novel of love and betrayal. . .good karma and bad karma. . .sin and redemption. . .
Chyna and her sister Janelle are always moments away from a catfight. They love each other, but Janelle has never forgiven her sister for swiping her first love, Cordell. That was ages ago, and now Chyna is showing off as the First Lady of New Hope Assembly, a church that's caught between the old ways of Holiness and new ways of serving its community. New Hope's leader, Reverend Grayson Young, is also caught. . .in the infamous Sweet Bush lounge, an establishment well-known for adult pleasures.
With the church congregation running wild in the aftermath of her husband's scandalous behavior, Chyna turns to her sister Janelle for guidance. But if Chyna thinks she's getting sympathy from Janelle, she'd better think again, because Janelle's got her own crisis. And when Cordell suddenly comes back into the sisters' lives, what follows are squabbling, chaos, and surprises that show just how hard the road to salvation really is. . .
Somebody's Sinning In My Bed by Pat G'Orge-Walker
ISBN-10: 0758235402
ISBN-13: 978-0758235404
Amazon.com
http://www.amazon.com/s/?ie=UTF8&keywords=pat+g%27orge-walker&tag=googhydr-20&index=stripbooks&hvadid=1146772181&ref=pd_sl_6ybttm3rhr_e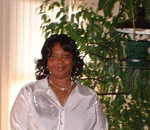 Posted By: EDC Creations
Friday, October 30th 2009 at 5:10PM
You can also
click here to view all posts by this author...