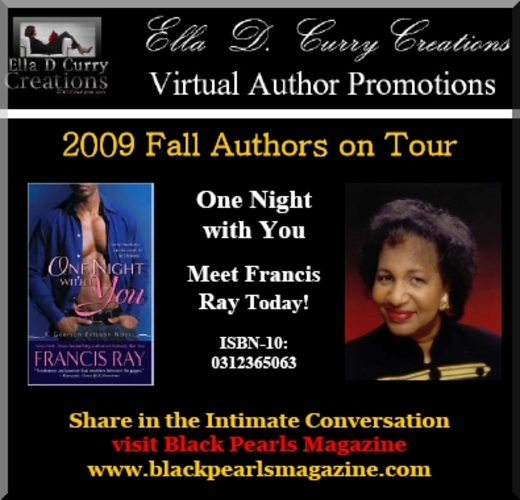 Intimate Conversation with Francis Ray New York Times Bestseller
Featured book: One Night with You by Francis Ray
ISBN-10: 0312365063; Available at B&N, Amazon or your local bookstore
Literary legend Francis Ray is a native Texan and lives in Dallas. A graduate of Texas Woman's University, she is a School Nurse Practitioner with the Dallas Independent School District. In 1999 and 2000 she was nominated for Texas Woman's University Distinguished Alumni Award. Ms. Ray's titles consistently make bestseller's lists such as the New York Times, USA Today, Blackboard and Essence Magazine.
Have you always wanted to be a writer?
Francis: No, the writing bug didn't hit me until I read SHANNA by Katherine Woodewiss. By her third book I knew I wanted to write similar books. The difference was I wanted people of color to take center stage.
How did you get started writing?
Francis: I joined my local chapter of Romance Writers of America, North Texas Romance Writers of America. I'm proud to say I won the first service award, The Yellow Rose. The friendships and mentors were invaluable. I can honestly say that without them I would not be published now.
Are you surprised at the success of your novels?
Francis: I'm very surprised, and humbled by the success of my novels. I've truly been blessed and thank God and the many readers who continue to buy my books. It's didn't happen overnight and that makes this time so much sweeter. My goal was one day make the USA Today list. I was stunned when my editor called to tell me NOBODY BUT YOU had made the New York Times' extended list.
What authors influence your work?
Francis: Katherine Woodewiss, Elizabeth Lowell, Amanda Quick, and Nora Roberts.
Do you ever suffer from writers block? If so, how do you get past it?
Francis: I suffer from writes block with every book. I get by it by going deeper into my character's motivations.
If you could pass on one tidbit of knowledge to both your fans and aspiring writers, what would it be?
Francis: Since they're in two different groups, the tidbit would be different. I'd jubilantly thank my fans, and tell the aspiring writing to read Techniques of the Selling Writer by Dwight Swain. That one book probably helped me more on developing characters than any other book. If readers can't feel 'something' about your character, they wont' finish the book.
When youíre not writing, what keeps you busy? What are some of your favorite things to do?
Francis: When I'm not writing, I like working in my flower garden, reading, shopping and taking mini-vacations.
If there was one thing you could change about this literary journey what would it be?
Francis: If I could change one thing it would be my procrastination in writing. I take the smallest excuse not to write. Today my excuse was shopping for pottery and plants.
What is the best piece of advice you have received, from either a fan or a fellow author?
Francis: The best piece of advice from another author was never to compare myself to another author. If you do you can drive yourself crazy, and it is counter-productive.
What is the one story you want to write, but havenít? What obstacles are keeping you from writing it?
Francis: There are two books actually. Lord Radcliffe's story from my first historical, THE BARGAIN, and IRON MAINDEN, a Medieval historical. The obstacles, time to do the research and my already full writing schedule.
What are you currently working on?
Francis: Promoting my new book ONE NIGHT WITH YOU. I'm working on BECAUSE OF YOU, Book # 6 in the Grayson Friends series.
How may we contact you online?
Website:
www.francisray.com
Blogspot:
www.francisrayblog.com
Myspace: myspace.com/francisray
Fanclub: readersoffrancisray@yahoogroups.com
Latest Release: One Night with You
November 03, 2009
Series: Grayson Friends Series
ISBN-13: 9780312365066
ISBN-10: 0312365063
Pick up a copy at Amazon
http://www.amazon.com/One-Night-You-Grayso...
One Night with You by Francis Ray

Read the First Chapter Excerpt


Link to read full screen:
http://www.docstoc.com/docs/document-preview.aspx?doc_id=13513498
One Night with You by Francis Ray
-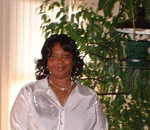 Posted By: EDC Creations
Friday, October 23rd 2009 at 3:13PM
You can also
click here to view all posts by this author...